For the 3rd year in a row (and 5th year in my life) I successfully completed the Inktober challenge!
I can't tell you how much this means for me. During this month, I suffered, I cried, I desperately wanted to sleep... And now I'm physically and mentally exhausted. But I am so happy I did it and so proud of myself! :)
It's hard to keep motivated to keep doing anything when you are all alone, and when you have little spare time for creative work. It makes such a big difference even if for just a month, to be part of a global community of artists and to have to commit to posting a drawing every single day. It's painful and it's totally beautiful. It can be even addictive.
I don't know if I'll do it again next year, but I really hope so.
Mr. Jake Parker, thank you for creating this challenge. ♥
This year I decided to put together a few things I really love: mythology and Asia. The theme became: "Asian mythological creatures and monsters". I didn't expect to find so many terrifying legends and grim folktales. I tried to keep a balance between beautiful and interesting creatures and scary ghosts but I'm not sure I succeeded. It was definitely something new for me, I don't even watch horror movies!
This year I also learnt something new. Since I've been quite unwell recently, I had to let go of a bit of my perfectionism and post drawings that were less detailed and more sketchy than the previous years, in order to go to sleep at an acceptable time. But the response from the audience hasn't been very different. I am not even sure people noticed how technically inferior this year's drawings were! Actually, one of the drawings I made for this Inktober was liked and shared more than any other content I have ever posted! How inspiring is this?
Cover of my "Inktober 2019" sketchbook: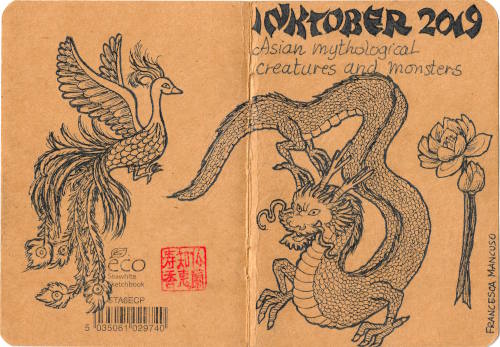 You can see the whole collection on Facebook or DeviantArt.