So, the Sendai Literature Museum exhibition will always held a special place in my heart, even if I didn't have a chance to be there myself.
Here's a quick update of what happened recently.
October 25th 2018
Sendai Literature Museum announces on Twitter that 10 fan art have been shortlisted and the 3 top one will receive a gift from Suzue Miuchi sensei! The 3 top one have a flower and a ribbon. My fan art is one of them! Just imagine my feelings when I saw this photo!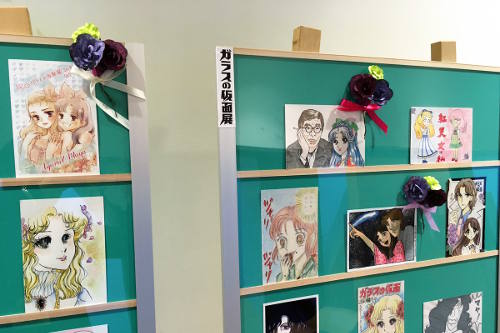 Photo from the official Twitter account of Sendai Literature Museum.
November 2nd 2018
It's finally arrived! An autographed post card from Miuchi sensei! I'm so happy!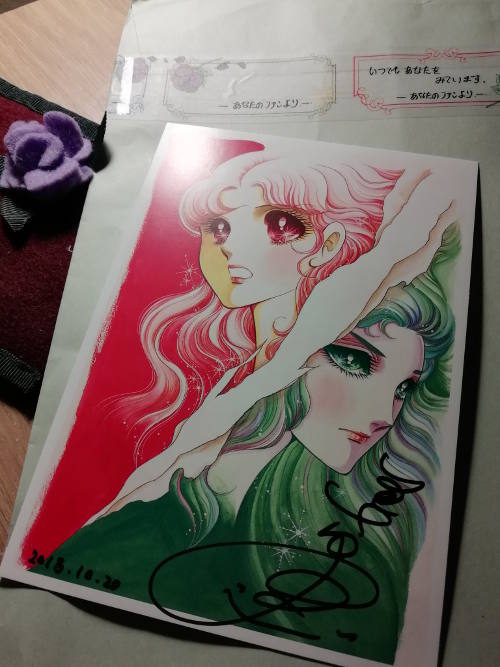 I'm a bit frustrated that I was probably rewarded for all my hard work as a fan rather than for the fanart itself. There were some great digital artworks at the exhibition and I am aware that my drawing didn't stand out next to them, and Miuchi sensei herself congratulated personally to the other two winners but not to me... Yeah, the impostor syndrome is out in full force and ruining my happiness a bit.
Anyway, I'm overall content, and I mean to keep drawing, and focus also on other stuff than this manga. I can't afford visiting Japan or buying all the merchandise I dream of buying, so this postcard is still a special item of my collection. Yeah!
Also, I'll be endlessly grateful to Sendai Literature Museum and if one day I have a chance to be in the area, I will definitely pay a visit. The nature surrounding the building seems pretty beautiful too, so what's not to like?