Last year was my first time in Angoulême. Frankly speaking I didn't think there would be a second one so soon! It's so expensive and tiring... But clearly addictive as well :)
By the end of 2011 I started thinking how much I needed another yearly dose of comics festival.
After all my friend Cecilia also was planning to go as well so I would have a chance to catch up with her!
It was so tempting... There was one thing that blocked me. It was too late to find a place where to sleep!
And then it happened. The guy who put me up last year wrote a message to me and the other couch-surfers to ask if we were interested in be his guests again. GO FIGURE!!!
Before my brain cells could try and connect my eyes to my brain and then my fingers, I had already replied YES, booked the train and bought the 4-day ticket.
I decided to take Thursday 26th and Friday 27th off, since the event is a little quieter and more bearable during school days.
That meant that on Thursday I had to wake up at 5pm to be able to catch the Eurostar leaving from S. Pancras at 7am (>_<)!
The journey went much better than last year.
Well, I was a little disappointed that I had 2 hours to commute from Paris Nord to Paris Montparnasse while 1h would have been enough... I could have slept more!
It was quite odd. Only when I arrived at Paris Montparnasse and I saw that my TGV was about to leave in 10 minutes I remembered that crazy little thing called time zone. Oops. I did have only 1h to commute after all, which was just about right ;)
Anyway, I got to Angoulême at 2pm, left my back pack at my host's place and immediately headed to the town centre to meet my friend Cecilia.
The first thing she told me is that I appear in one photo on the official 2012 programme... Me, with a white and neon-green jumper and my Pukka bag, at Riyoko Ikeda's conference! I am in a photo with Ikeda Sensei! YAY!!!
That made my day!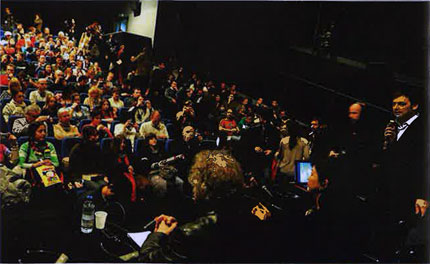 Anyway. My friend was queueing to get a graphic novel signed by its author, and I queued with her. Queueing? I was confused. I thought I left England in the morning.
That was just the beginning.
If I remember Angoulême 2011 for the real excitement, Angoulême 2012 will be remembered more for the extremely longs waits and non-shows.
If the event organisation wasn't particularly successful though, this year I enjoyed more the company of people I knew and of those I met in there.
I kept bumping into lovely cartoon-world-related people I met in London like the following super fantastic ones: Stephen Betts and Ellen Lindner
Francesca Cassavetti, Sally-Anne Hickman and Sean Azzopardi.
Moreover, I got to know some lovely and talented Italian cartoon artists / graphic novelists who shared a big room with my friend Cecilia, like Marco Albiero whom I already know in the internet for his excellent fanart.
Last but definitely not least, someone who I (unsuccessfully) struggle not to be obsessed about was there as well... Yes, someone may have guessed his name after reading the previous post... Craig Thompson in person!!! Yay! That made my month :)
But let's go back to my epic (in many ways) first day at Angoulême 2012, on Thursday 26th January.
Craig Thompson would be signing books in the afternoon, and Cecilia and I agreed to go there.
I wouldn't have done it myself, because I had no real reason, since he signed my book in London... But my friend knows him (LUCKY!!!).
So we went to the stand where he was relentlessly signing books and we just said hi, because there were km's of people ready to kill a queue-jumper.
I heard Craig say to Cecilia that he met a friends of hers in London, and I immediately raised my hand shouting: "Hey, I'm here!!!".
I had more dignity when I was 16. I must have been so boring then :)
Cecilia and I went for dinner at the Latitude American Pub we so much loved the previous year.
You can't imagine how dreadful is being a vegetarian in France. At least in a small town. Seriously. There is not a single vegetarian pizza. Let alone a vegetarian salad. Everything contains ham.
I decided to be brave and I ordered the same as last year. 4 seasons pizza without ham.
I clearly said "sans jambon" and the waiter repeated this, nodding.
Five minutes later I got my piping hot (defrosted?) pizza... Avec jambon...
Still, I was tired and hungry, so I carefully removed most of those annoying pink cubes of pork and ate the still yummy, crispy pizza.
If only they knew how to cook pizza in the UK!!! I'd rather have to remove pieces of dead animal from a pizza than eating a soggy, indigestible vegetarian one.
Anyway, that is not the point. Sorry, food is another thing I can talk about for hours :)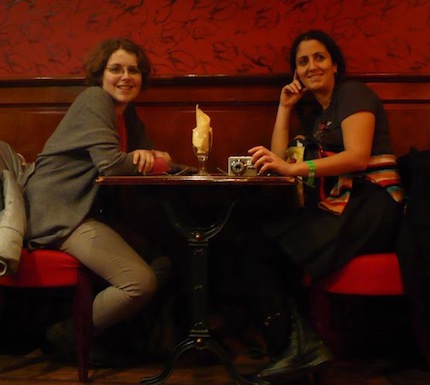 After the dinner, we had a short walk when we managed to meet Craig Thompson again (serendipity!!!) outside a bar.
He was going back to his hotel and we walked him there :)
Seems like my luck ended on that day, also because if Craig was attending parties for authors only, I wouldn't have been able to attend.
Maybe it's a good thing, because I suspect I would have given the impression of being a stalker. Which is often true, but not in this case :)
So, Cecilia and I had our dinner, Craig was about to have his and now it was Cecilia's friends' turn. We joined them in a kebab place. I really liked them all. Very nice people. Only disappointing thing, I was the oldest one in the group and I was the only one who is not a professional graphic novelist.
I envy a little bit all the people who have the "author" pass. I have always dreamt of being an author myself (ie publishing something), even more now, when I felt the only odd one :p
Maybe in a couple of years... :)
Cecilia and her friends called it a day, while I knew that wasn't the case for me :)
My host had friends over to play music in his lounge, which later would be my bedroom.
I totally adore the way they play music. They improvise really great tunes, playing the weirdest instruments you'll ever see, together with more traditional ones, and there was also a lady singing marvellous melodies without a meaning...
I could hardly believe they were making up the songs. I was most impressed.
Shame only that I was awake since 5am and they went on until 2am, constantly smoking any kind of plant ever grown on Earth.
They surely thought ill of me, sitting among them and just listening, most likely with a zombie face. I hope they didn't take it personally.
Also, nobody spoke English, which made me even more unpopular, while I was constantly concentrating on understanding French and Spanish (there were 2 guys from Colombia).
At some point I wasn't even sure what my first language was.
At 2:30am I finally went to have a shower and let the window open for half an hour to let the freezing air take the place of whatever I had been inhaling for the previous too many hours.
For the first time, I was the only couch-surfer (only on Thursday). So I took the sofa. That was a treat, really.
The following day was quite uneventful. I managed to see an interview to the awesome Lorenzo Mattotti in the morning, then the BD museum. Eventually I joined Cecilia who was told after 1h wait the the editors wouldn't be able to see portfolios for the whole morning.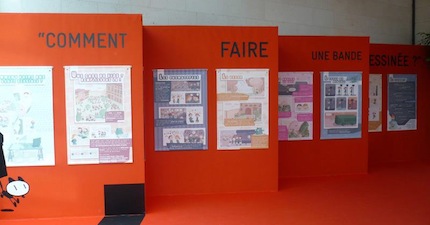 I spent the late afternoon with Cecilia and her friends, missing Craig Thompson's talk which I so would have liked to attend. Admittedly, I was extremely tired. Not even Brad Pitt would have been able to make me move.
Boo. I am no longer on my 20s, even if my mental age is about 10 :)
Anyway, the Italian group and I went to an Italian restaurant to have another healthy dose of carbs...
Yeah. Pizza again.
Considering that my personal menu in Angoulême is:
Breakfast: pastry
Lunch: baguette
Dinner: pizza
You'll imagine what would become of me if I lived there permanently.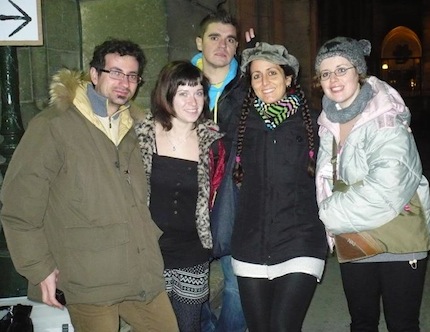 Friday evening was more relaxing than the previous one. I managed to get to my host's place by 10.30pm, while he and other 6 couch surfers were about to go out.
I remained at home to sleep (again on the sofa hehehe), and so did another lovely young lady from South Africa who wanted to wake up early the following day like me.
Saturday was my last day at Angoulême (I had to take the TGV at 4pm). My Italian friends had already left.
I went out with the South-african lady at about 9am, to show her where to get the day-pass. Then we queued in the cold waiting for 10am... I took off the gloves to eat my pastry and my fingers clearly weren't happy.
I think I heard from them again at maybe 11am.
Anyway. Saturday started as a total fail. The highlight for me was an interview to Chris Ware at 11am but when I arrived there I was told that he didn't come.
I ran to find the theatre where they would show an animation by Mattotti, but I arrived there just to be told it was fully booked.
Eventually I ended up in the semi-hidden Conservatory, to listen to a presentation by some manga artists from Taiwan (pretty good actually) and then I managed to listen to Paul Gravett introducing his book "1001 Comics: You Must Read Before You Die", French version.
It's always a pleasure to listen to Paul talk about comics, his enthusiasm for sequential art is compelling :)
At that point it was already 1.30pm and it was clear that my planned visit to the Art Spiegelman's Exhibition wouldn't happen (sigh).
I preferred something closer to the train station. I ended up seeing a very interesting collective exhibition by several authors from different European countries.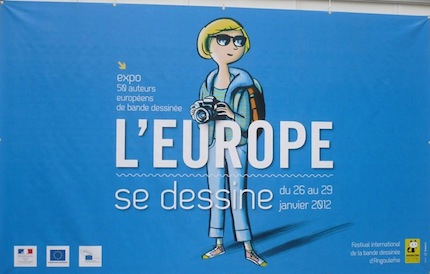 The miserable weather became even more miserable, because it was no longer just cold... It started pouring...
Obviously I had no umbrella... I couldn't wait for the TGV to rescue me!
I don't remember much of my journey that brought me back to London at 10pm. I took 2 trains, 1 metro and 1 tube, but I slept most of the time and my forehead was piping hot.
If you ask me how it is travelling in the tunnel, I wouldn't be able to say. I've done it 4 times now, and always in Morpheus' arms.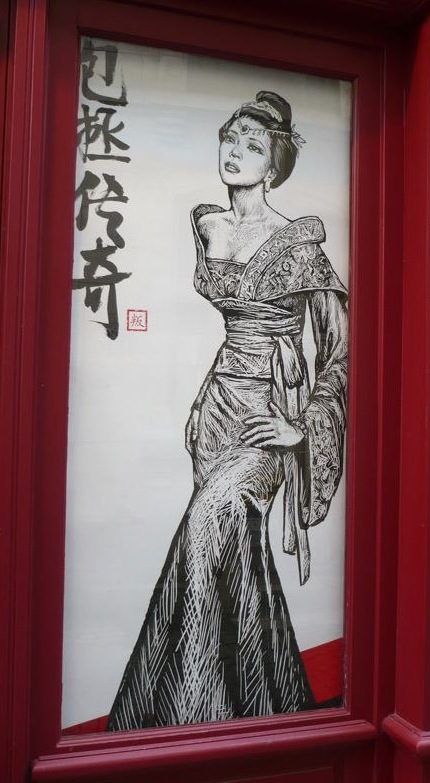 Jokes apart, I loved this holiday after all, and since next year is going to be the 40th event, I really hope I'll be able to attend again.
I keep promising myself that I will study French this year. But I did the same last year. Dammit I started thinking like the English, who believe they don't need to learn other languages! :)