Something I found almost impossible actually happened!
I managed to give a short presentation of my (few and unpublished) works to the amazing audience of Laydeez do Comics, my favourite meetup for people who love graphic novels, comic strips and illustrations.
What I like the most about this group is that among professional illustrators, graphic novelists etc there are also fans and amateurs like me :)
I am terrified of speaking in public, even more when I have to present on something as personal as my "hobby" artwork.
I know that drawing is the best way for me to express myself, but I also know that my lack of practice, patience and self-confidence make my favourite hobby a source of frustration as well :)
Anyway, thanks to the wonderful Sarah and Nicola, I did one of the things that scare me the most.
I was very anxious and it wasn't easy for me to control my emotions. Still, I didn't burst into tears and didn't panic.
Surprisingly, the audience asked me questions and a few also encouraged me.
With hindsight, I wish I had done better, but I am so glad I did. Maybe someone will start recognising my face at the next events! :)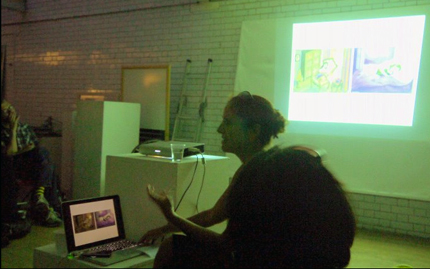 Photo courtesy of Mike Medaglia
Check the
Laydees Do Comics blog
.
Updated 5 September 2011:
write up for the Laydeez Do Comics August meeting by Sally Plowman